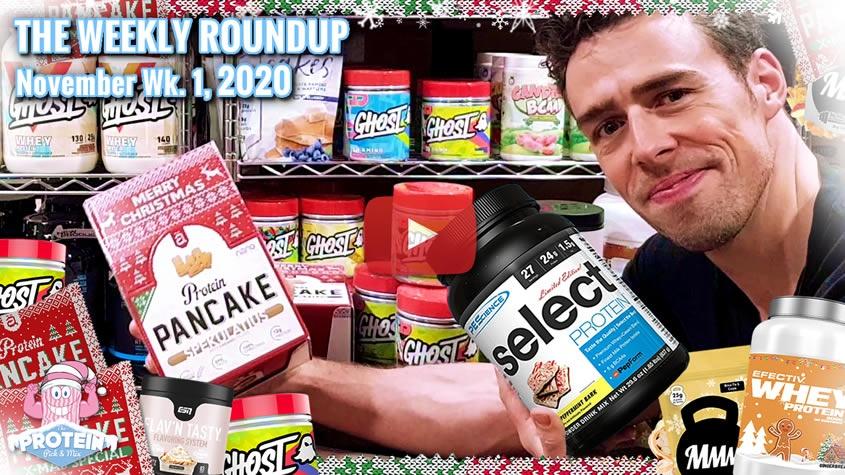 ...things really are getting FESTIVE up in here! ⛄ After the wondrous Winter Wonderland Battle Bites just last week (I know!! Only a week I saw you last!! Thing is, new goodies are falling like a flurry and we have to keep up!) we've got more and more seasonal flavours arriving across all types of snacks and supps!! 😋
First up, the truly sensational Xmas Limited Edition Speculoos Nano Protein Pancakes!! Biscoff biscuit butter meets caramel and fresh-baked awesomeness...this is a mandatory Merry pick-up!! Bonus points for most epic Christmas packaging yet, too!! 😍
As for the rest....GHOST BCAA V2 finally made it into the Mix (not so festive, but still tasty!), ESN's Flav 'n Tasty flavouring systems (complete with inclusions and cereal pieces!!), MyMuscleMug's seasonal 'Mince Pie & Cream' flavour makes a return once again for 2020 (and we have no fewer than FOUR other new flavours, too!!), Efectiv's Gingerbread Whey and SELECT's Peppermint Bark Protein (again, making a return for 2020!!) and, for something a little different from them, new Beanies (yes...the coffee people!!) calorie-free syrups!! Phew!!
Theeeennn...updates (we might just have ourselves a warehouse!! 😲), restocks and rambling... yep, here, there or ANYWHERE lockdown won't spoil the fun and we continue our march toward Christmas and the Holidays! 🎅
Stay strong, stay (kinda) sane and stay silly out there, folks!! See you again next week, no doubt, as we have ALOT coming soon!!